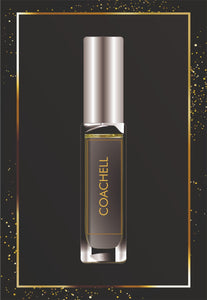 A very luxurious and playful fragrance. Rare masterpiece which resembles the young free-spirited mindset of Music Festivals.

The name Coachell is inspired by the world-famous Music Fest "Coachella" which happens every year in the United States of America.
It's a luxury chypre- fruity composition that begins with notes of fresh green absinthe, peach and freesia. Roses and iris are in the heart, leaning on the base of Sandalwood, Cashmere, Musk, Amber and Vanilla.

Sure to get you compliments and noticed. Even if you aren't looking for it!